Happy Friday Everyone! SO my weekly updates will be on Fridays since that is the day after my new week starts. I'll have you all go through this journey with me! 🙂 
15 Weeks
Your the size of a Has Avocado & Your practicing breathing which means I need to gain more weight (according to my apps!). Right now your 4.02 inches and 2.50 ounces which is a navel orange! How cool is that???
The gas has increased.. oh no 😦 and more heartburn along with indigestion has become an issue. My nose is still stuffed and my gums are swelling 😦 Not fun!
I had a dream about a daughter and a son. The son was older and the little girl from dreams when I was younger was there. How neat!
I. Want. To. Sleep! Waking up constantly is annoying.
Tilapia is my most favorite next to broccoli and fries.. The fruit never survives in my fridge long.. but thats nothing new!
Boss told me on my last day of 15 weeks "Your showing!". Conflicted feelings about showing; anxiety is a b–ch.
Halloween Ideas!
So Halloween is my most favorite time of the year (next to Christmas & new years then its my Birthday!!!) but Halloween is also my anniversary! Its a special day all around but now im eating for two.. The normal outfit I would go for wouldn't fly for a lady with a little one on the way and frankly I want to me comfortable. If we go anywhere it will have to be the weekend after and you know I want to go out and shake my butt.
Here are a few that I felt were hilarious and I may do something like it! Since i will be HUGE when halloween comes which means I will be sporting any number of these at work.. Cause why not?
---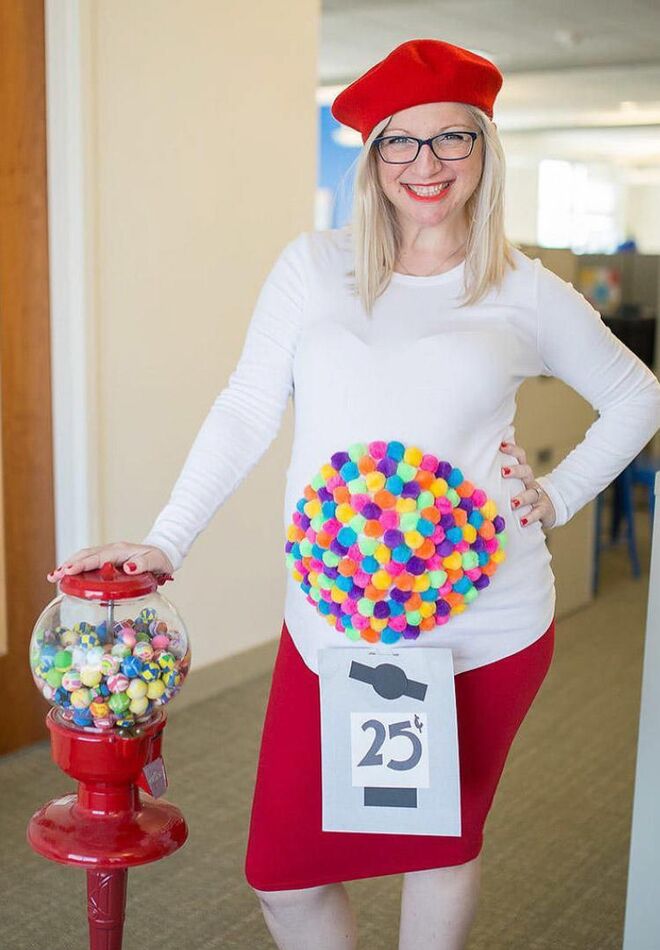 Now this one is just so cute!
Pregnant Gumball Machine Costume
Hit your sweet spot with just a little glue and dozens of pom-poms for a guilt- and calorie-free way to enjoy candy on Halloween.
I could do this easy (go buy a cheap white top) and decorate it with little pom pom balls (which I have a lot of but in halloween colors). A wonderful Idea!
---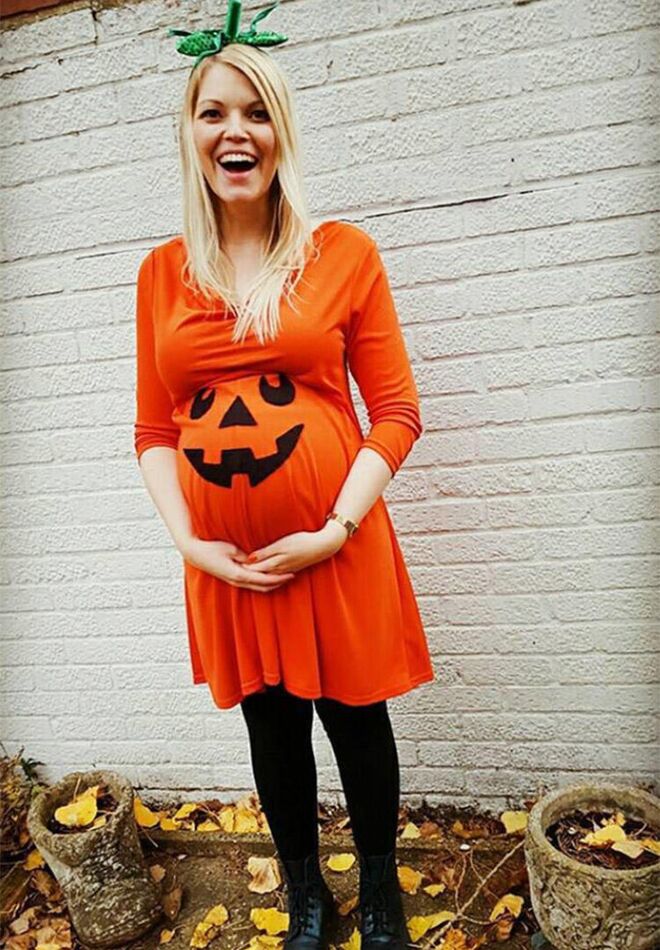 now this one won my heart the second I saw it!
Pregnant Pumpkin Costume
When it comes to cute maternity Halloween costumes, orange is the new black. This pregnant pumpkin costume makes the most of your melon shape—and stretch marks! Draw the pumpkin on your belly with non-toxic paints, or sew one on a shirt.
I love the color orange so this would be perfect! I woulder if the hunny would be another pumpkin 😀
---
Winnie The Poo & Honey Pot Couple Costume
Being pregnant isn't easy, especially when it comes to the big events – Halloween, Christmas, New Year, that kind of thing. Why not embrace everything that pregnancy brings this Halloween however, and even make a play on it. In this case, the big belly very reminiscent of Pooh Bear's honey-filled gut. It's a very simple outfit, and one that's definitely cute. But if she's wishing she wasn't pregnant at this festive time of year, she probably should have remembered to keep him out of her honey pot!
---

Astronaut & Alien
It seems that NASA are releasing new space every other day, and with astronauts like Chris Hadfield and Tim Peake becoming more and more popular, we can't think of a better time than to come up with a Halloween costume that's space and galaxy themed. And for once, we aren't talking about Star Wars. There are plenty of space styles you could for this year, but we think this astronaut and alien couples costume is a great idea. You could get super creative with the alien, making it look exactly how you think an alien should look, and the astronaut is simply a white boiler suit with some cleverly placed patches, and a white helmet.
Now all i need to do is convince the hunny to dress up as a couple! 🙂