A special shout out to @lenniegrace for this amazing book to read and gotten to enjoy! Hard to believe we are about the same age and she is accomplishing being a author. I loved opening how she had it wrapped like a present along with a sweet card! She sent it to me for a honest review and I can say — You'll have to read my review to find out!!
A collection of spooky short stories to keep readers up at night!

This volume contains:
Blood Moon: A woman is attacked by a giant dog while she's jogging. It was scary, but she didn't think it was a big deal. But as Christmas and the full moon draws near, her family begins to notice her behaving strangely. Will they realize what's wrong? Or is it already too late?
All That Glitters: in which a young woman is given a beautiful music box for Christmas. But as soon as she takes it home, strange things begin to happen. Is it all in her head? Or is something truly sinister going on with the box?
They Came From the Sky: A young woman is trying to enjoy a week of relaxing when the end of the world starts. Unexplainable natural disasters ravage the globe. Crazy storms, all in places they shouldn't be. There are thousands of deaths, and people are scared. Is it the end of the world. Finally, the storms calm. Is the horror finally over? Everyone thought it was. Until they began to descend from the sky.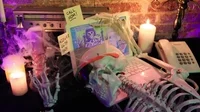 ---
Length: 173 Pages
Publisher: Independently Published
Publication Date: March 30th 2019
Genre: Horror | Short Stories | Occult | Fiction
---
Lennie Grace writes horror short stories and novels and looks forward to sharing her love all things creepy and spooky with the world. She works two jobs now, but someday hopes to write full time.
Lennie loves to write fiction that focuses on dark and creepy things, but is extremely nice and non-creepy in real life
She is a lover of books, reading, and writing. She enjoys reading a little bit of everything, but really likes horror, mysteries & thrillers, fantasy and manga. Along with reading and writing she also loves animals, coffee, pizza, and all things cute and cuddly.
She lives in Oklahoma in a home filled with books and family members, both human and furry.
---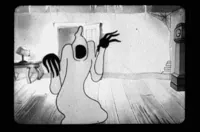 Spoiler Ahead!!!
Darkness and Bloodshed
by
Lennie Grace
My rating:
5 of 5 stars
A very super special shout out to Ms. Lennie Grace for the reviewer copy of this arc!
SO I am not one to just hand out five star reviews but this one got me giggling and shivering in my spine. Not exactly handing out if the book absolutely deserves it right? Well this one hit me right in the memories and had me loving every second of it. Even my mother took the book and read it within a few hours! without permission I may add and thought like I did about this short story novel. I asked her to come write a review (hopefully she does!)
The cover is so simple and easy to enjoy where the insides where like omg….
Each story starts off with a little tid bit of information – like in goosebumps or tales from the crypt. I grew up on these so i got hit right in the feels and probably feeling a little bias with this review because of that although I'm trying not to be! I myself enjoyed reading the little "into before each story" because it made me think of this crypt keeper or narrator talking before the episode unlike the twilight zone where it is at the end. Each of these stories were comparable to my childhoof favorites!
Blood Moon: OHKAY!! so this one was a little comical until it started to attack kids. I was sitting there like OMG! How dare they go after the kids..
All That Glitter: Woah! Talk about creepy and sending a shiver up my spine. I stayed up a little passed bedtime because I Needed something to calm me down after this read!
They Came From the Sky: a little predictable but I'm glad I read this during the day or I would of had trouble falling asleep again! Something like this could happen for real? To all the alian believers yes.. Yeah it could happen!
My favorite was all that glitters and I enjoyed how there was not a single happy ending. Way to go Grace!!
This author is defiantly a kept secret that needs to be read yesterday. This novel is wonderful for a quick read while waiting on the kids, In line to watch a movie or into a event, or simply enjoying a cup of coffee.
View all my reviews