When building a playground who thinks "oh perfect, this spot right next to the cemetery and near where kids were murdered is PERFECT for a playground!" well apparently Huntsville, Alabama did back in the 1985.
The eerily-isolated park is located in a secret spot smack-dab in the middle of Alabama's Largest Cemetery which is the one-hundred-acre Maple Hill Cemetery. Yep, you guessed it, it's haunted too…
The park is officially called Drost Park but all the locals call it Dead Children's Playground or DCP.
For decades, Drost park has earned the title of 'country's most haunted park', as well as one of the most haunted places in the United States due to some of its scary and haunting legends.
In 2007, the old playground equipment was removed overnight as the Maple Hill started to expand. The locals have fought to keep the playground in the middle of the cemetery, and the local government has even gone ahead and updated it over the years! But they're not keeping the playground nice and shiny for the local children, but rather, the ghost children that haunt the graveyard.
It is said that at night, the children buried in the nearby century-old cemetery claim the park for their play. Many people claim to have witnessed them, heard their cries, whispers or giggling-sounds and experienced their various unusual activities. People even claim to occasionally see swings moving by themselves in the silence of dark. Sometimes the sounds of little children's feet running along with a suppressed woman voice coming from the deep wood have also been reported within the limits of the Dead Children's Playground park.
In January of 2008, The Alabama Paranormal Society investigated the area known locally as DCP. One of the investigators heard a voice of either a woman or female child. She quickly snapped a photo of the area and when it was developed, a misty figure of a woman can be made out. Many of the photos taken that night are littered with orbs.
Apparently between 10 P.M. and 3 A.M. is the time when most of these paranormal activities are said to occur in this playground area, making it the most haunted park in America.
On the other side, in a large open field a common local legend reveals another dark secret that the spirits of Maple Hill Park Cemetery are those displeased children who were abducted around the 1940s – 1960s and whose bodies were later found in the abandoned mine shaft adjacent to Dead Children's Playground. They were brutally murdered by an unidentified serial killer who perhaps lived in one of the abandoned mine shafts, and this murder case still remains unsolved.
Kri on the other hand has experienced this playground and its haunting first hand.. Which made this a place she will NEVER enter again no matter what. She can attest to some of the weird things as things has happened during the late hours in the afternoon before the parked closed.
However, If you're brave enough to spend a night at the Dead Children's Playground, you can find it by simply typing Dead Children's Playground into Google Maps. If you're already inside the cemetery, park near section 40 and just walk up the hill..
But is the playground really haunted? You be the judge……
Some people have asked Kri to post her experiance.. So below is it!
My Experience
My family moved to Huntsville, Alabama when I was roughly 7 or 8 years old. That's were I went to college, where I fell in love and eventually moved away. So when I say I experienced some spooky shit – I EXPERIANCED SOME SPOOKY SHIT in that city such as statues not looking the same way after pictures were taken, orbs, being shoved, and so much more such as a little girl on the side of the road for a hot second but when I passed her she wasn't there until a few miles up the ground she is crying, covered in blood but transparent.. I found out She died from a accident on a farm nearby. And that isn't even all of it.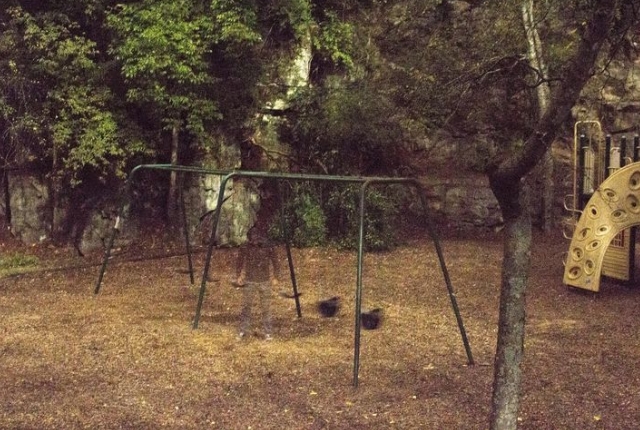 For some reason in High School I had friends always wanting to go to Dead Children's Playground ad Maple Hill Cemetery. By this time I was 15 years old and have gone there for the annual cemetery stroll in October or went with my mom and her coworker to visit a grave or two. I've been there – Experienced some spooky things that I felt threatened. I'm what paranormal seekers call a beacon or a amplifier, Meaning ghost can thrive off me or what not. I can also sense ghost and see them occasionally as orbs or figures. Its weird.
By this time I'm dating this loser of a guy, ex btw for good reasons, and he wanted to go with a group of our friends – roughly 10 of us. I of course played along although I didn't want to cause peer pressure. Me, him, a couple of our friends all went close to dusk just to hang out at the park area and chill. We brought sodas and snacks. One of the other girls was joking about paranormal stuff while we were on the picnic tables then all the sudden the swings all started to move – but there was no wind with the sound of laughter from kids.. but we were there alone. Of course I was heightened at this time and felt uncomfortable as I normally do when I feel presence or some unexplained stuff is happening after I felt the presence.
One of the friends perked up as he thought he heard a kid scream from the wooded overpass – He of course goes to investigate and myself along with the female whom was scared said don't go. Within moments of him going up there he comes running down saying something scratched him – my ex at the time saying it was probably a bush… Then we all heard the dreaded screams of kids, the swings started to high swing and movements around us. I said nope and walked away back to my car along with two of the friends.
Once everyone was back in the vehicles we left and went to I believe was McDonalds. The ex was complaining about his shoulder hurting all the sudden while we were getting our food and the friend whom went into the wooded overpass said his back is on fire. Of course we checked it out and there was scratch marks like nails going across their skin. It was eerie.
The times I have gone back without them for the annual events or with family I see a dark figure, very dark, following me or someone I'm with around the cemetery. I always feel like I'm not wanted there and to leave, very unsafe feeling and uneasy. Even when we drive passed it on the adjacent roads. I always got this feeling even before I knew of the history. Before I moved away I used to bring flowers to put near the playground for the spirits not at rest every couple of months. I wonder if anyone else does that.
Kri
Pine Enshrined Reviews
Click Here for All Social Media Links through Linktree
Disclaimer: This post contains affiliate links and if clicked and a purchase is made, I may receive a small commission to help support this blog. This does not cost you anything, it just helps pay for all those awesome giveaways and upkeep of the blog!
Updated Jan 1st 2021