Another installment of the challenge hosted by That Artsy Reader Girl which is called Top Ten Tuesday. I'm surprised by how effortlessly I could do this, but than again this is only the second installment.. haha
Click here a list to see the others doing this & Jana's post or click here to learn more about this challenge.
So I used to live in a retired military city near Nashville, TN and the events was wonderful but winter there was like getting a cut to your bone.. Cause the air seriously cuts to the bone and it hurts and it is just ugh.. And I love the cold so for me to say this hurts but when it snowed.. Everything shut down but outside was gorgeous and I loved it while other actual Alabamians were complaining. FYI the snow equipment to clear it is illegal in that state so they only own one for the whole state.. Fun isn't it.
Since moving to a Active Air force Base with a much larger city things here have been different. Add in Covid-19 era makes things weird. Not to mention everyone here not utilizing their mask correctly it almost makes me want to go back to Alabama but i'm here. I'm so close to everything and the healthcare y'all. Its wonderful and my daughter is in better hands. But, I'm a Pagan in a much denser christian area of the bible belt vr. where I was in Alabama. I'm Proud but not loud cause I don't want to be shot or have more Jahovah Witnesses, christians, etc coming to my door or sending me random letters – again. Also, if you are I respect that but wont be commenting further on it because to each our own-
On to the fun winter stuff!
Things I Miss
Galaxy of Lights
Botanical Garden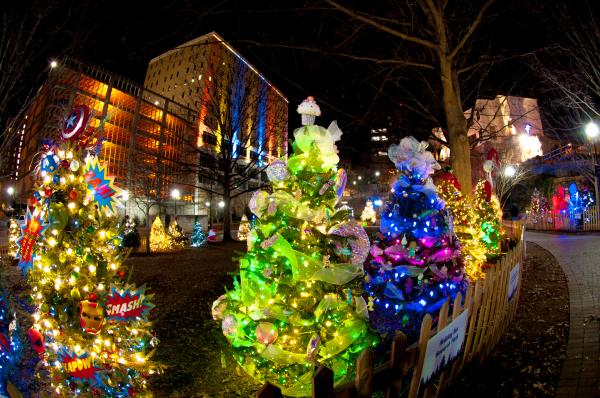 Galaxy of Lights is a magnificent 2.5-mile-long holiday light extravaganza featuring larger-than-life animated light displays.
Special exhibits include a holiday village, dinosaurs, wild animals, a magical twinkling icicle forest, garden scenes, animated snowmen and the 12 days of Christmas. There is a 5k, walking days, Dog days and you can Drive-through on nights begin on the day after Thanksgiving and continue nightly from through December 31.
I have pictures from every. single. year since I moved there minus last year and this year. It is always fun seeing the kids & adults light up at it every year – when I was pregnant and when we first took my step-daughter in 2018 (see picture to the right!!) I was one of those adults.
My mom mentioned the other day that they opened the other day and it is just not the same without me, my Husband nor Tiny. .. I agree.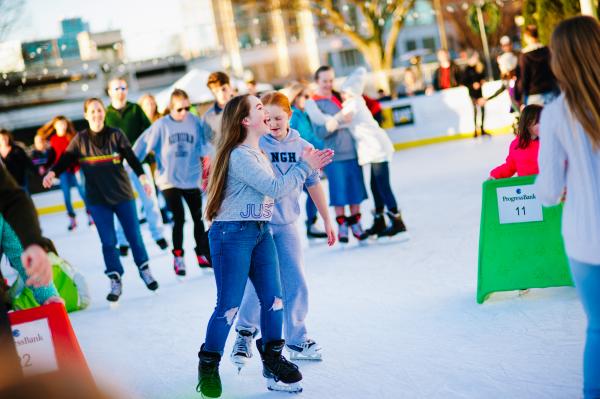 Tinsel Trail & Skating in the Park
Downtown – Free!
A festive display of live Christmas trees in downtown Huntsville decorated by individuals, non-profits and corporations. 
Grab your friends, family and skates then head downtown to enjoy outdoor ice skating behind the Museum. Admission charged and  rental skates available.
Just the Random Lighting of Christmas Trees Around town
This one hits different this year. We used to go to the local outdoor upscale mall to see their yearly lightening of the christmas tree. Of course there be sales, fireworks and christmas carols. It was always a event and I would try to make it but last year I did. I'll not be able to recreate these photos but I have them from when we went. I'm glad of course because my daughter and husband of my light. They are my home.
What I'm looking forward to
A Christmas Tree
The last three years I haven't had a Christmas tree due to moving, Pregnant woes, Roommates already had a tree or family did. This is the first year my family get to do a Tree and I want a LIVE tree. I want to cut it down like how I used to watch my dad do when I was younger and had a happy dysfunctional family. However, it is different with a loving happy healthy family and my Daughters 2nd Christmas. I'm excited, nervous and ready to go pick a tree with my loving family and in-laws. I have wonderful in-laws by the way.
Christmas in Roseland
Christmas in Roseland is celebrating our 37th year as a holiday family tradition in the Ark-La-Tex! We have added even more new lighting this year! Come out and enjoy some family fun outdoors – giant Christmas Cards to the Community, marshmallow roasting, live entertainment and more lights than you can count! I think it be cute to experience this because it seems to be like the Galaxy of Lights but more walking to it.
Starting New Traditions
Getting to start new traditions if what I'm getting excited for. The trying to be Santa for my daughter and step-daughter. Baking of all the holiday treats with the husband like a hallmark movie and the girls helping in tow. Its the decorating the house, family together drinking hot chocolate and spending time together. Its the making memories and occasional photo to remember the time together. I've lost so many traditions and loved ones over the years that i'm looking forward to this which will last a lifetime. It will be the first time we sit down for a family portrait and not the last..
The Books I reach and Movie I watch Every Year
I own two antique Golden Press Puppet Books that i hope to complete the set one day, I keep them up and out of reach of the kids because they are old like from 1966. I have owned these books since I was little and I pull them out occasionally to read – this year is the first im reading them to my daughter and i'm beyond myself. So like if anyone wants to gift me something then this would be it.. Every time and I prefer these over the newer versions because the holographic and vibrant graphics.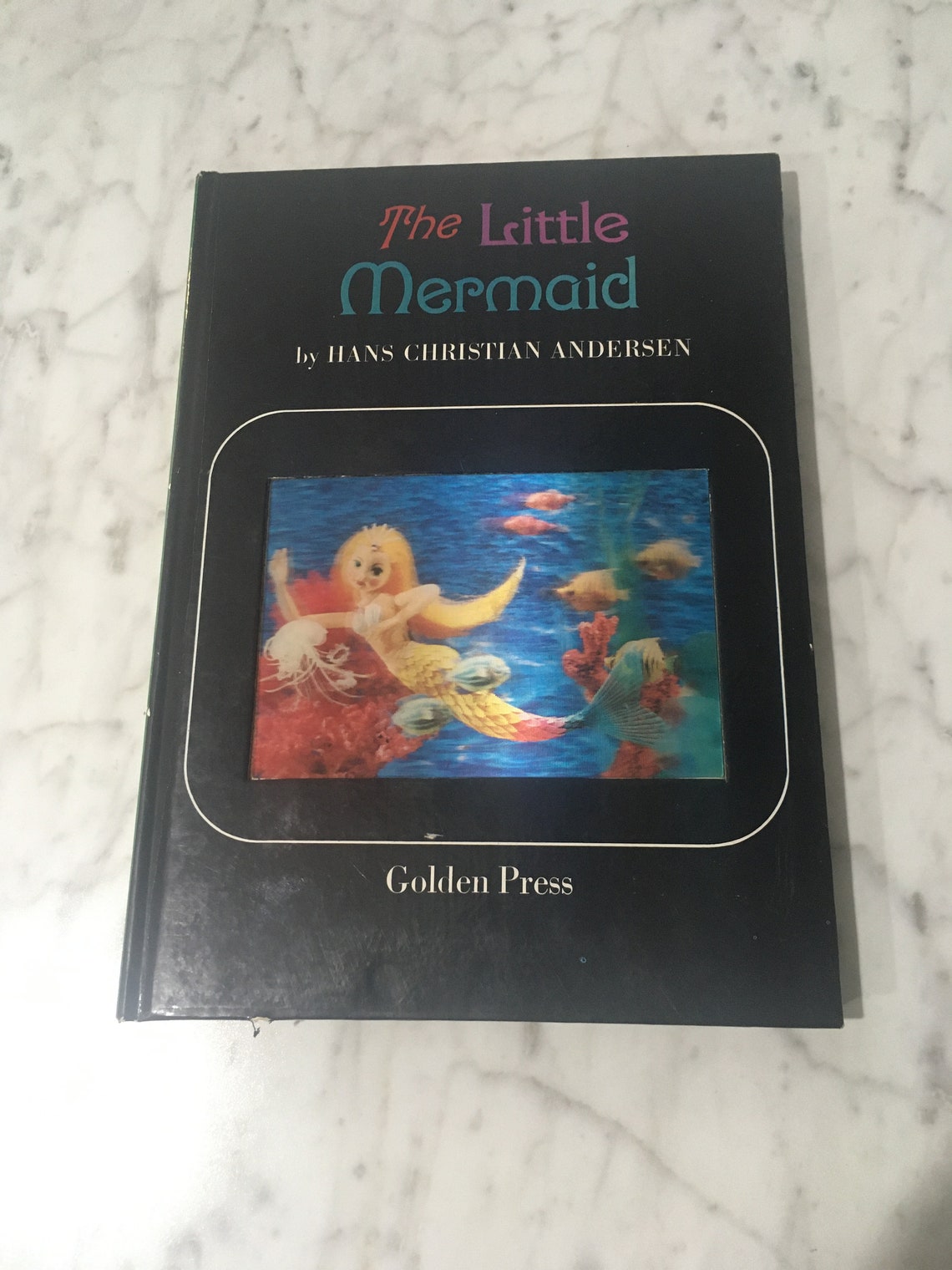 The Movies I always Watch
I don't own them but they are very much apart of my heart. I'm not sure why I love old school claymation with holiday movies so much but I do – maybe its the memories and warmth of my heart or I just simply enjoy it.
Kri
Pine Enshrined Reviews
Click Here for All Social Media Links through Linktree
Disclaimer: This post contains affiliate links and if clicked and a purchase is made, I may receive a small commission to help support this blog. This does not cost you anything, it just helps pay for all those awesome giveaways and upkeep of the blog!